​Singapore: a city trying to get some sleep
Short
Singaporeans live fast; a 2007 study commissioned by the British Council investigating walking pace – as a proxy measure for quality of life – found that Singaporeans are the fastest walkers in the world. It is said that they proudly see themselves as the fastest texters in the world, too. Last month, at the FutureEverything conference in Singapore, an installation gave locals the time and space to slow down.
Manchester-based FutureEverything – an 'innovation lab for digital culture' – has been focusing on the 'smart city' of the future, and exploring the advance of new technologies through art. Their October conference in Singapore, created with the city's Infocomm Development Authority, examined the relationship between the arts and technology in a place that traditionally sees them as quite separate.
One such way was through the Chronarium, an 'immersive audiovisual environment' installed at the conference by Loop.pH, an experimental London studio working across design, architecture and science.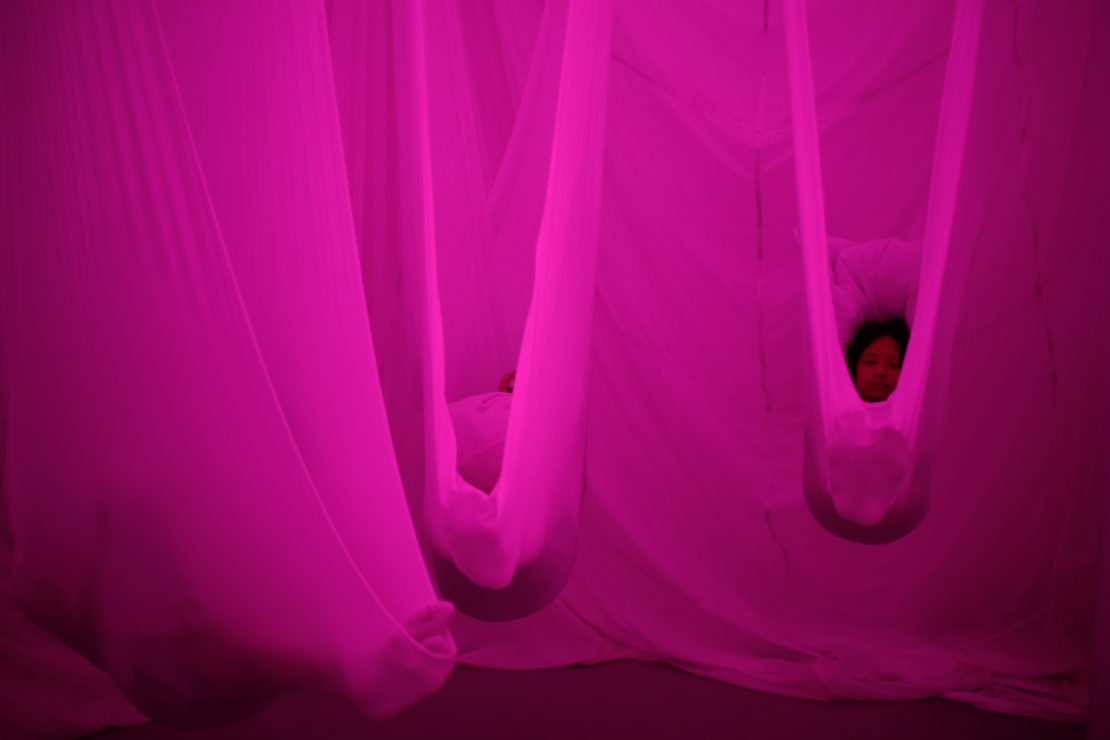 Set in a cave-like dome made of fabric, the Chronarium used pink noise and washes of coloured light to take visitors away from the whirr of the city, while an EEG headset worn by participants monitored brain data, measuring their responses to the environment and states of relaxation. The pink noise soundtrack was made by composer and artist Anna Meredith. Hanging, hammock-like swings within the dome allowed participants to rest in a deliberate space where physical, digital and biometric data induced a sleep-like state.

The Loop.pH artists worked with Dr Victoria Revell, an expert in human circadian rhythms from the Surrey Clinical Research Centre, to develop the experience; Loop.pH's Creative Director Rachel Wingfield said, "If we as designers could understand the neurological and physiological responses of the body to environmental conditions, such as sound and audio frequencies, we can design spaces that aid sleep, wakefulness and alertness."
Loop.pH wanted the space to allow visitors to "reset their internal circadian rhythm for better, more harmonious sleep."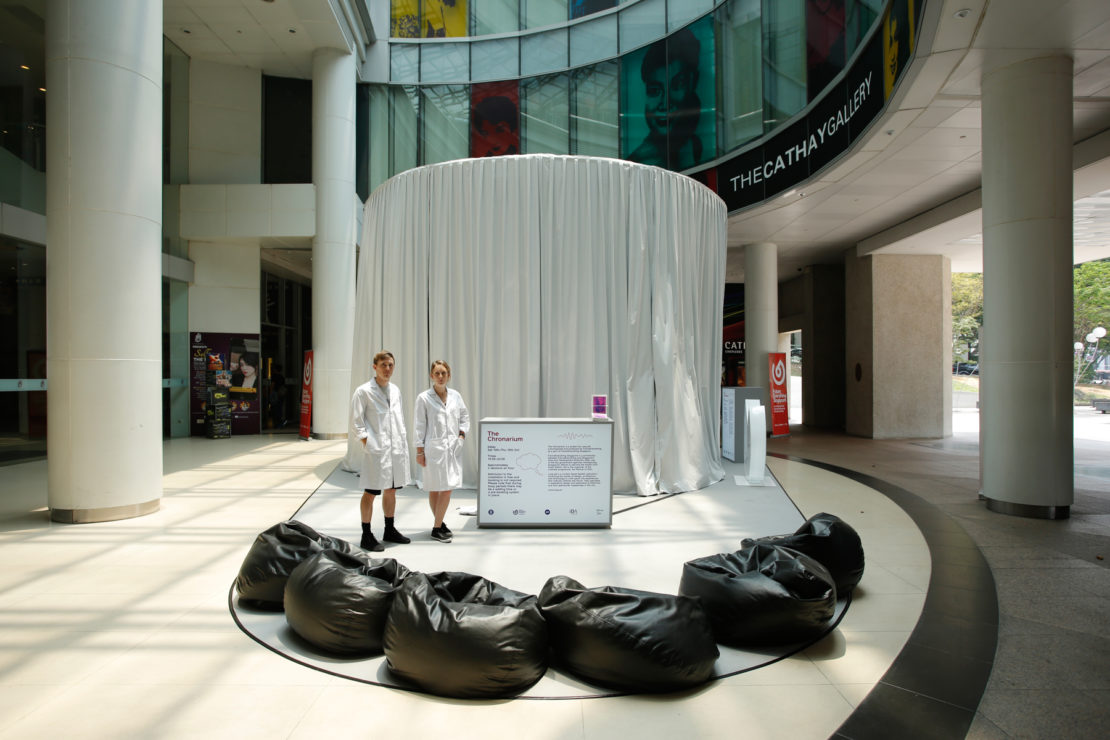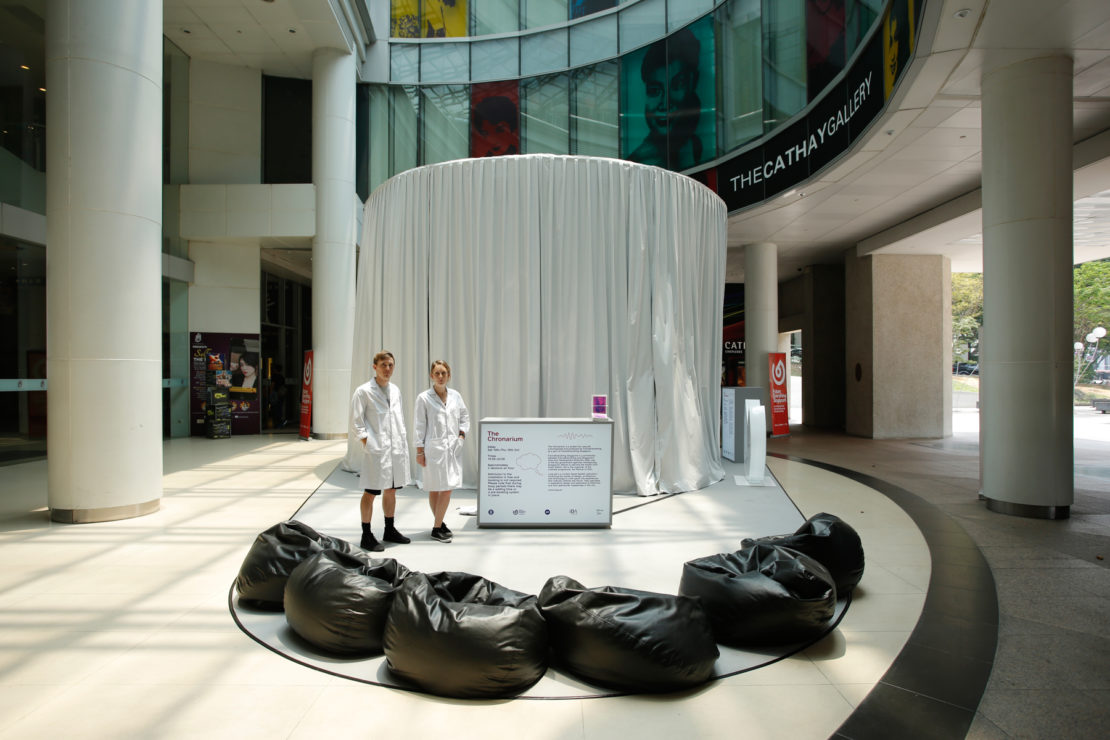 Data collected during the Singapore project will be used to develop Chronarium further, with a view to rolling the technology out at airports, helping travellers to deal with jetlag, as well as potentially offering it to shift workers.

"City life is becoming faster and faster, compressing time and space," says FutureEverything founder Drew Hemment. "It's all about efficiency and that's about squeezing out waste, squeezing out those beautiful moments of wasted time – those little pauses and gaps and breathers."
The other major installation at the festival – Hello Lamp Post, by PAN Studio – also encouraged Singaporeans to stop and engage with their surroundings. More than 700 pieces of street furniture in the city, including several public landmarks, were utilised: each object had a unique code which people could text to an advertised number, this prompted the object to 'respond' via text message, asking a series of questions, collecting locals' ideas for the technologically-enabled, 'smart' future of their nation. The project first ran in Bristol in 2013.
Although the Chronarium deals very practically with a symptom of the 24-hour working day that technology has given rise to, the sleep installation also symbolises a cultural shift in the way Singapore approaches technology and creativity.
"The design projects were about giving people an excuse, and giving them permission, to take a moment for play or contemplation or sleep or relaxation or rest, and thinking through what the role of technology is in that," explains Hemment. "On one level it was about sleep and immersion, and inducing and changing brain states, but it was also about something bigger – about the relationship to the city."
While the melding of arts with technological and scientific knowledge is at the heart of what FutureEverything has been doing for over a decade now, the areas are traditionally seen as particularly distinct in Singapore. "You have the world of tech and business and government in one place and then you've got the world of culture and society and values over here, and they're quite separate," says Hemment.
After the weeklong festival, where Hemment met with government officials and warmed the sofas of Asian daytime television, he has found FutureEverything's ideas have resonated throughout Singapore, from artists to ministers. Yaacob Ibrahim, Minister for Communication and Information, used Future Everything language in a speech declaring that art and culture should be at the centre of technology development in Singapore; while Hemment also received emotional messages from local artists in support of the work.

Hemment adds, "We actually seem to have helped really shape the debate about the future of Singapore, technology and their vision for a smart nation."