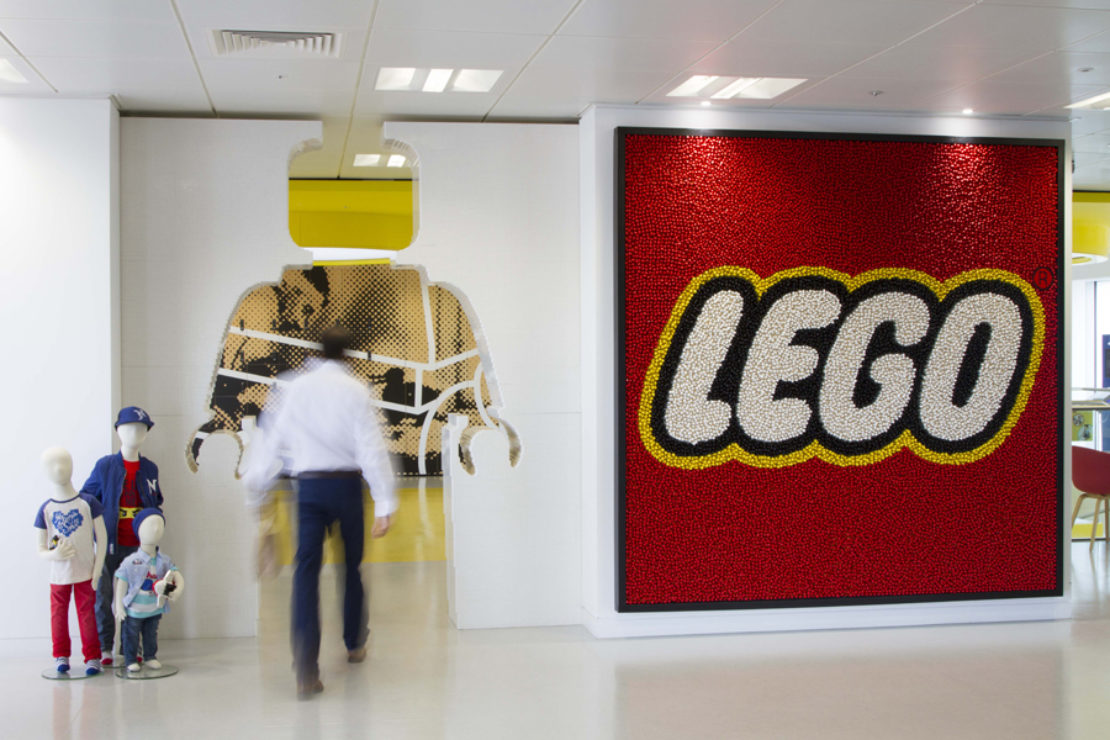 Hot desks: Inside LEGO's imaginative London office
Short
The LEGO Group, founded in 1932 by Ole Kirk Christiansen, was born from humble yet tenacious beginnings when, through the Great Depression, the carpenter decided to shift focus from making furniture to wooden toys. Later he moved to construction toys: the brightly coloured plastic bricks known and loved by millions of fans today. The name is an abbreviation of two Danish words, leg godt, meaning 'play well'. The company grew in popularity for around six decades and expanded to include theme parks, LEGO Duplo (large bricks for small hands), the Expert Series (technical models for older hands), computer games and apparel. In spite of a dramatic downturn when it plummeted to near-bankruptcy in 2003, it has since regained its positioning as the second largest toy manufacturer in the world.
Through both its crash and subsequent recovery, the LEGO Group has always been a company that continually innovates. While not short on ideas, the firm was poorly managed, lacked strategic focus and was out of touch with its consumer. The company has since reoriented itself, exercising better operational discipline and re-igniting product innovation. "It is our strategy to bring creative LEGO play experiences to children in every country in the world," says Jørgen Vig Knudstorp, CEO and president of the LEGO Group. "To do that, we need to be present globally, attract talented employees in many locations and offer exciting career opportunities that engage and develop our workforce."
As part of its expansion plan, the company has established a number of global hubs. While all model design development still happens at the group's Danish headquarters in Billund, the decision to have a physical presence in major cities around the world was made in order to attract and retain diverse, creative talent and to maintain a competitive edge. London was chosen as the location for one of the hubs because of its metropolitan and multinational nature. The move created an opportunity for the business to pilot a new way of working which Bali Padda, the firm's COO and executive vice-president, considers will "encourage collaboration and chance encounters that can spark new ideas and opportunities."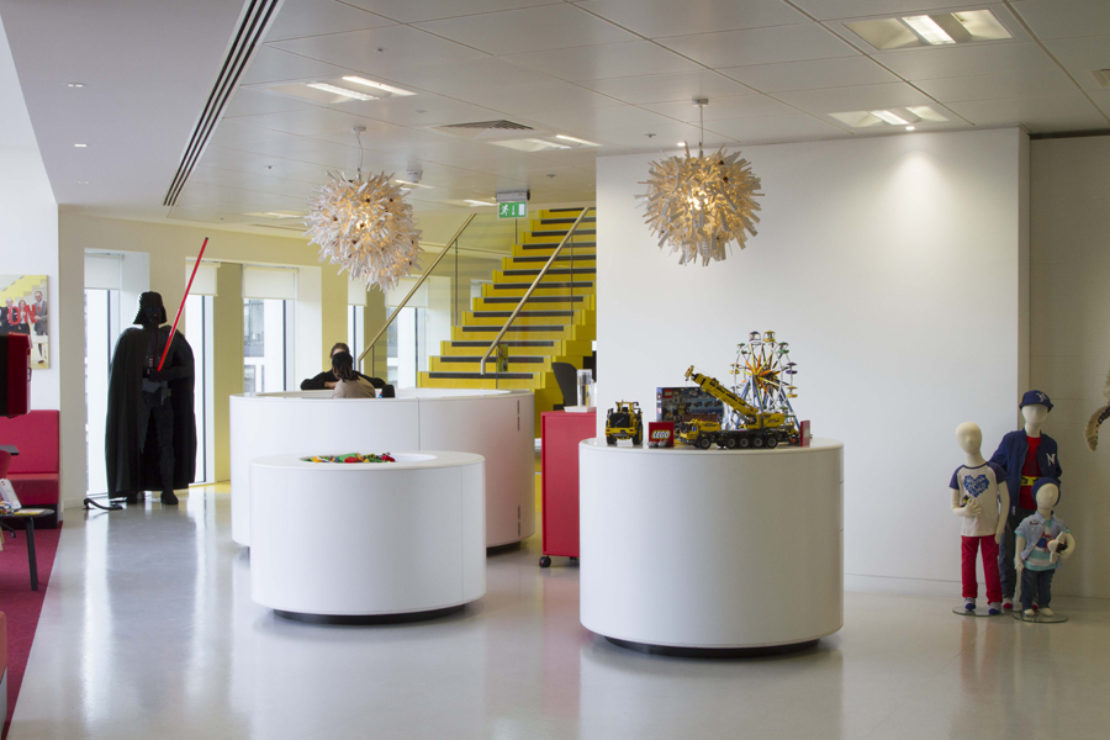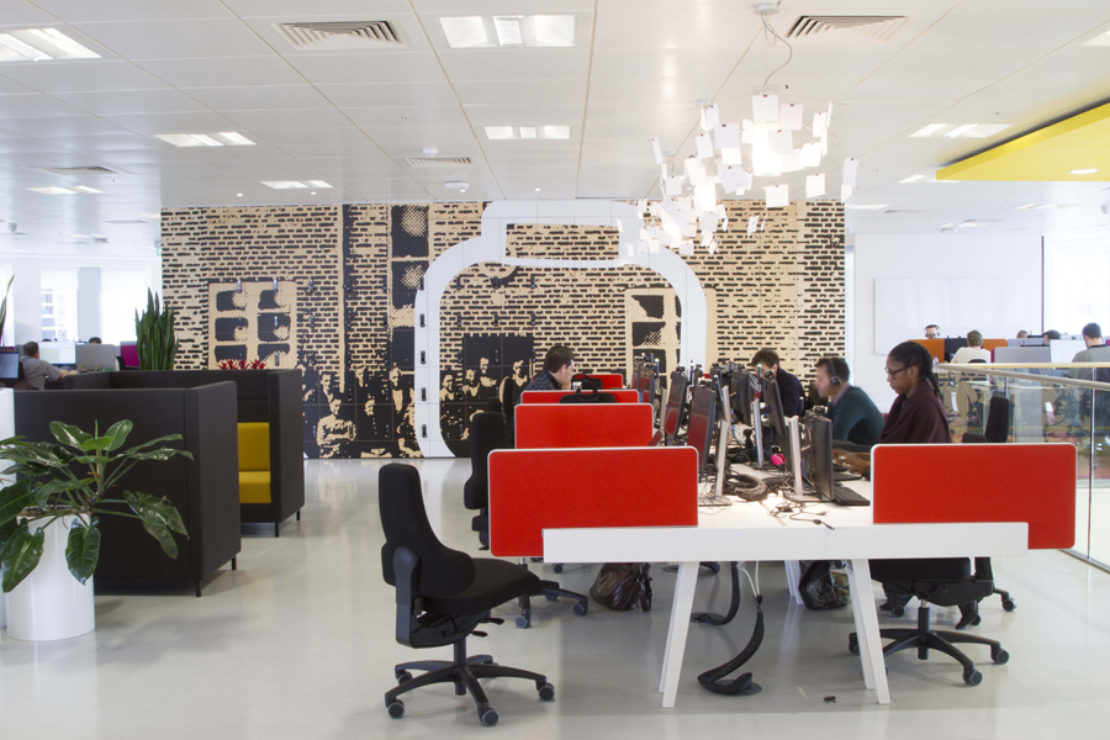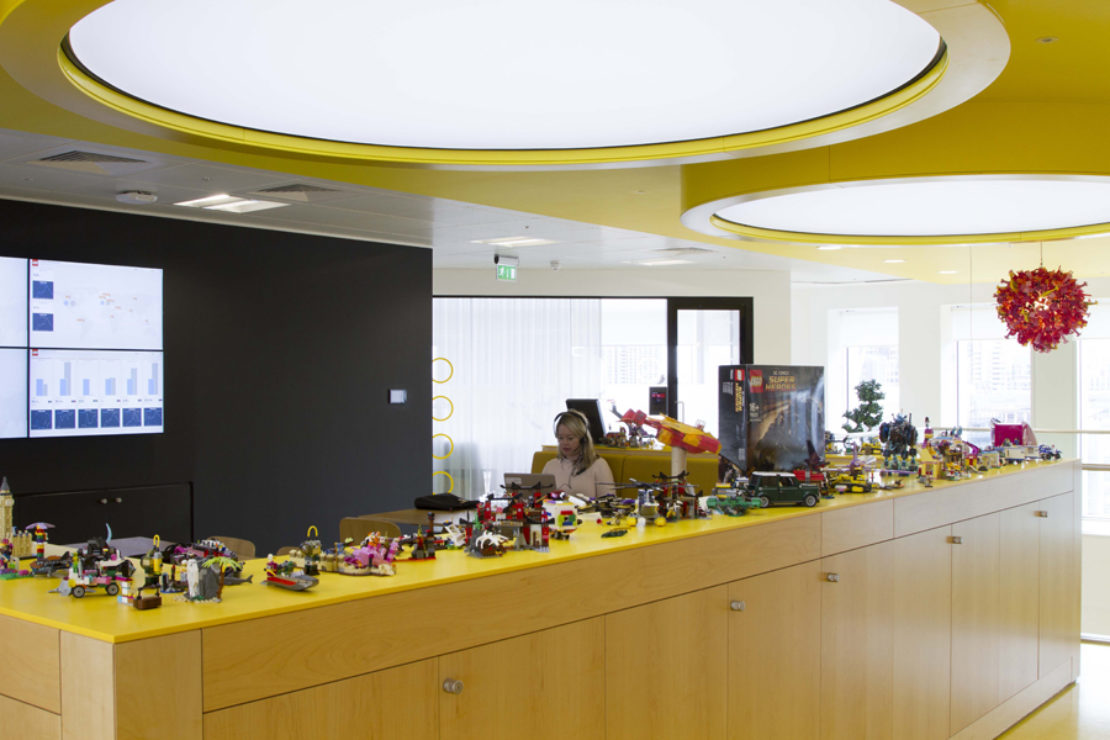 Divided into flexible work zones with no specific seating arrangements and no offices for managers, the aim of the London workspace design is to increase collaboration. Bali explains, "The lack of fixed seating is a very tangible consequence but the biggest impact is that the traditional physical concept of a 'department' has been dissolved, which enables cross-organisational collaboration even more than we are used to." This new approach for LEGO is based on an activity-based working concept where, instead of assigned desks, people choose to work in different settings that support the activities or tasks they are performing or provide the ambience that helps them perform best. The LEGO Group is one of the first companies in the UK to develop and integrate the concept, which has already been popular in Australia and the Netherlands.

Shortly after the move to the new offices in central London, project leader Sophie Patrikios gave us a tour. Spread over four storeys, the workspace can accommodate 200 employees. Each floor is zoned for a different set of activities and tone. Visitors enter on ninth floor to be greeted by the receptionist (known as a 'hubhost') and a giant mini-figure arch (built from LEGO bricks, of course). Close by is a cafe area stocked with coffee and food, with stunning views of the city. Guests and employees alike can gather in this area, which is designed to encourage informal meetings in non-bookable booths, with LEGO sets available for people to use. Also on this floor is a space filled with bricks and other toys that would be the envy of any child, which acts as a focus group room designed to help understand kids at play.
Head down the 'yellow brick road' stairs – the main circulation between floors as the use of the elevators is discouraged – to 'the basement' on level eight, where individual focus is the design intention. Carpeted, with a slightly lower ceiling and darker colour palette, it has a cosier ambience appealing to the introvert in us all. A variety of spaces support different types of individual work, including the library – where no phones are allowed – and 'quiet booths', which are the do-not-disturb places, as well as areas that are equipped with high partitions for 'head down' work. There are also small, closed rooms for complete privacy and circular 'study caves' carved out of a wall for individual contemplation or rest.
Sign up to our newsletter
Floor 10 is open to external visitors. Throughout this level, a mix of open and closed rooms allows guests and LEGO employees to choose meeting or private spaces. A central, open booth features a large screen showing LEGO-designed maps of social media activity.

On floor 11 project teams can set up camp for a while, posting information about work in progress, then dive into small huddle rooms that accommodate two people and one screen. The rest of the space is open, with no partitions. Whiteboards are ubiquitous, as Patrikios explains: "We want as many places for people to write on the walls as possible – to encourage people to share."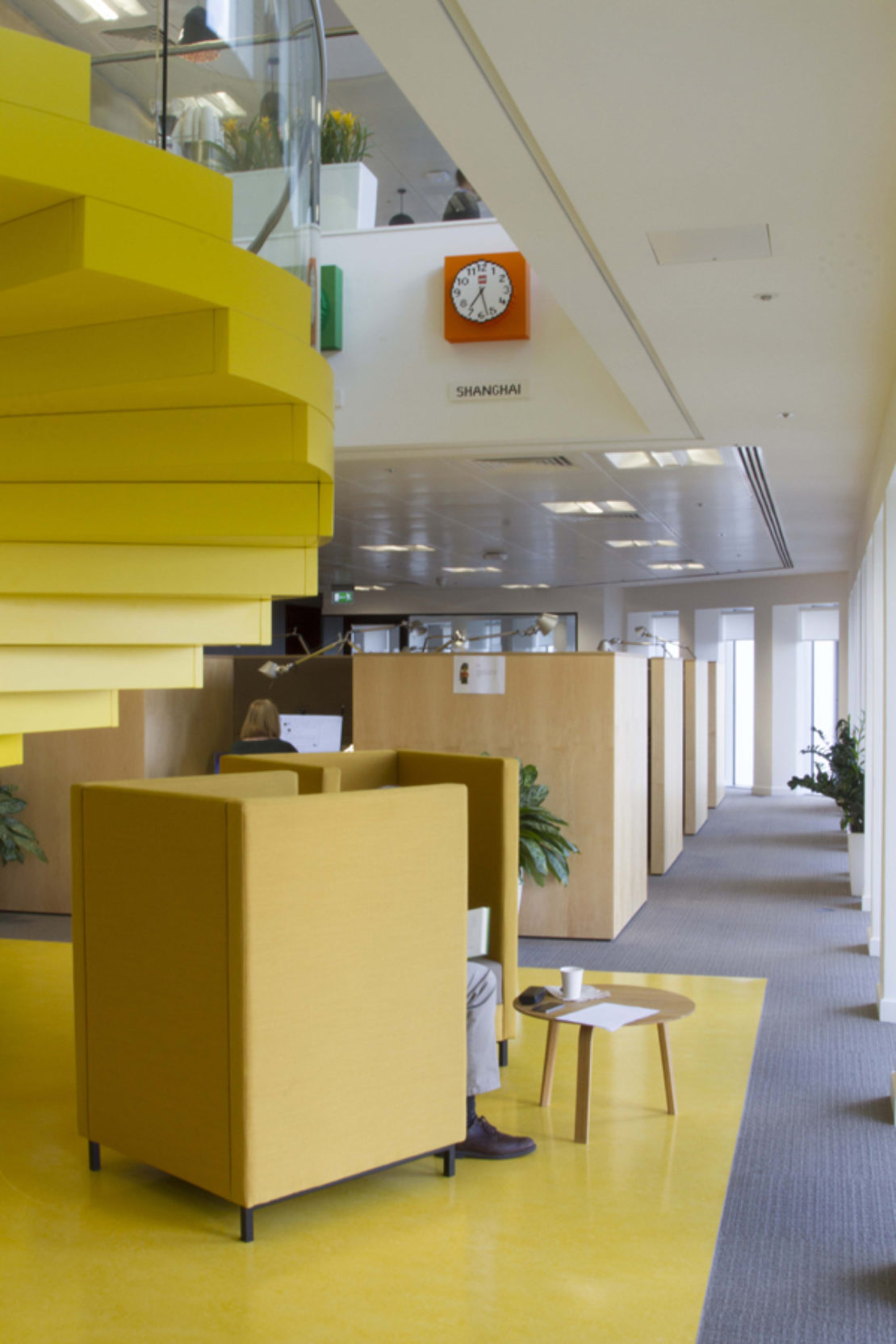 Two important aspects that governed the successful implementation of the project were team empowerment and momentum. Patrikios recalls, "Our leadership team was not only supportive but also had a really clear initial vision. It was not about numbers: there was no 'save 20 seats', just 'this is in line with our values, these are the behaviours we're trying to get across in the company, and this environment and new way of working that supports them.' Then, 'off you go.'"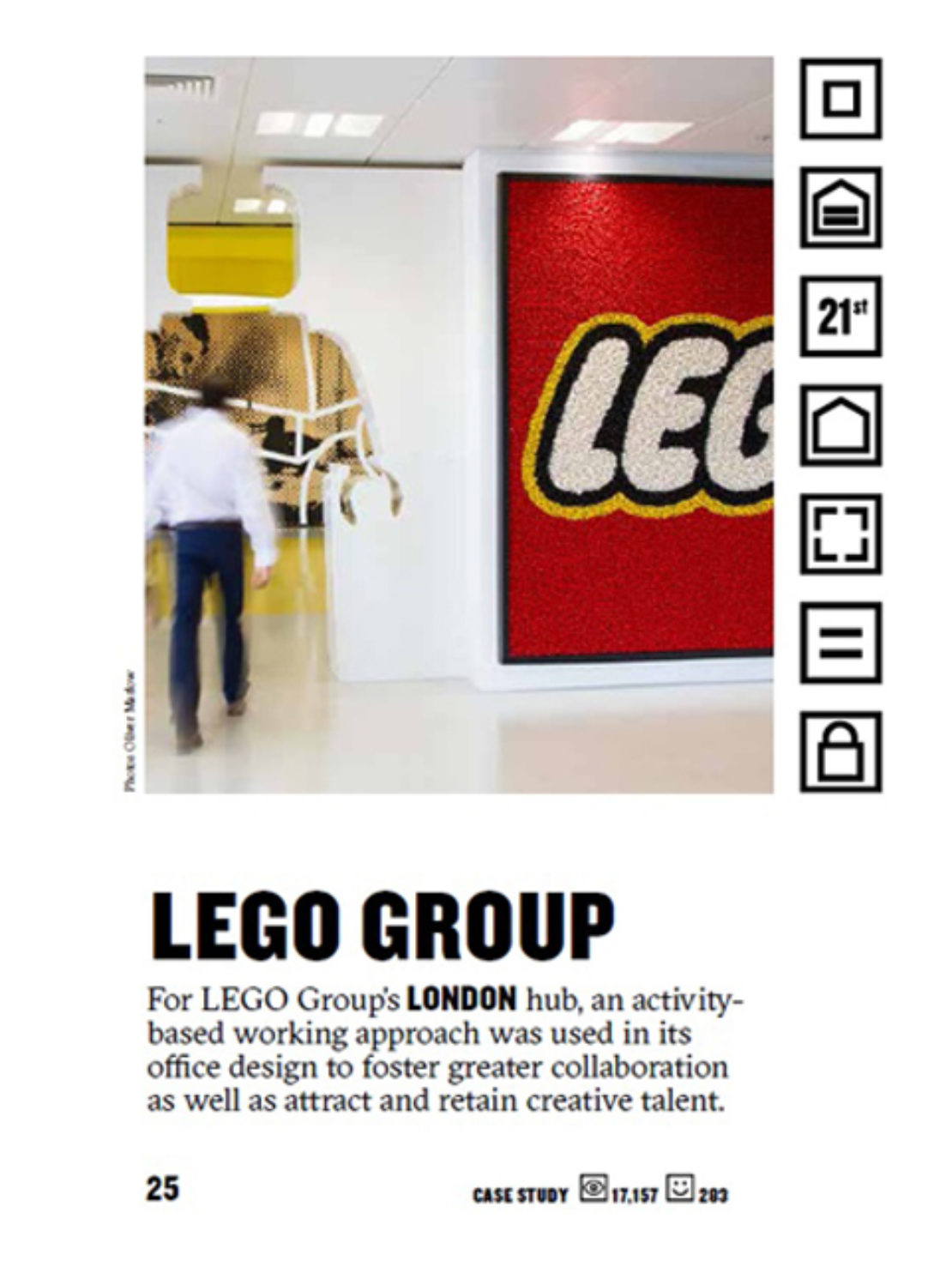 This leap of faith enabled Patrikios and her team to turn the project around from initial brief to occupation in just over a year – and to keep making wider changes. "Momentum is key," says Patrikos, "and we're using that momentum to change anything from ownership of desks to better meetings to clearer lines of communication."

Finally, the importance of leaving things to settle, leaving some things unfinished or unresolved has been a tactic that the team has employed deliberately in order to find out how people adapt to them, and to establish open lines of communication from the start.
How will they know whether it's been a success? "People will vote with their feet! We will of course evaluate the environment in six months' time. But it won't be numbers, it will just be obvious: if the place is alive and buzzing with creative activity, we'll know we've done what we set out to achieve." Just over a year later, a return visit to the London hub confirms the success of the approach, which has presented a new set of challenges: "We had forecast 400 company visitors per month and we're getting 1200, so we're having to use external meeting rooms ourselves," explains Patrikios. "We're victims of our own success!"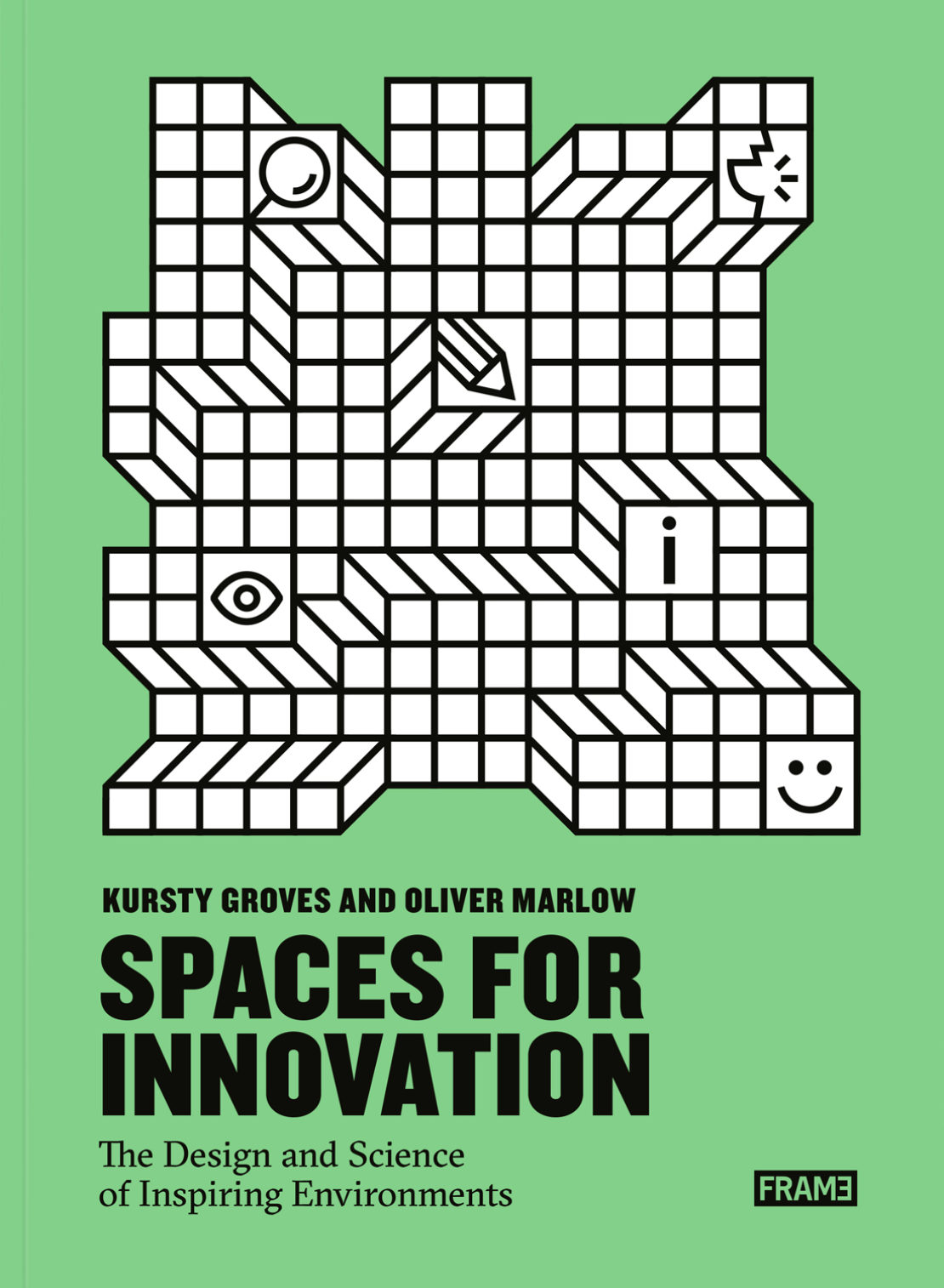 This is an edited extract from Spaces for Innovation: The Design and Science of Inspiring Environments by Kursty Groves and Oliver Marlow, published by Frame
Join the authors for the launch of the book at Nesta on 22 July. More details here
More in this series
This article is not available for republishing