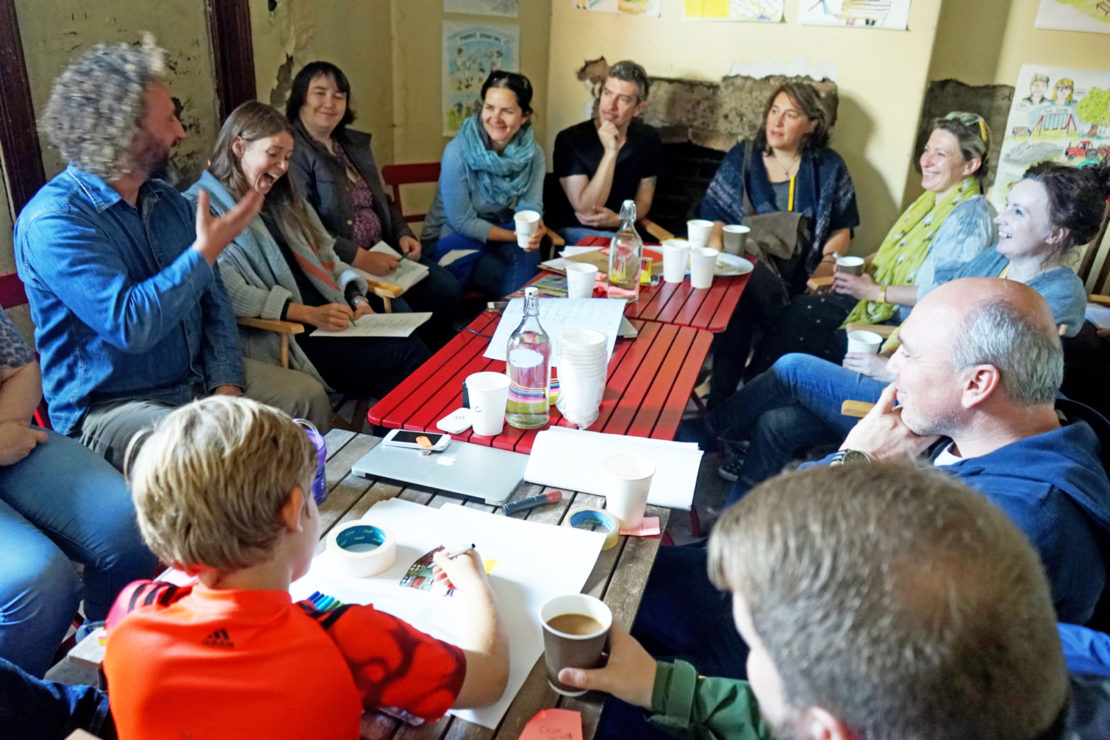 Homebaked: the cooperative bakery reviving Anfield, loaf by loaf
Long
Anfield is a ghost town when the football's not on. One Sunday afternoon, a cold September sun beats down on boarded-up streets. An elderly couple wait for the bus to go and do their shopping elsewhere. The only signs of life come from Homebaked, a bakery on the corner of Oakfield and Donaldson Roads, where locals are arriving for Liverpool SOUP, a live crowdfunding event. Neighbours push open the door to be greeted with smiles and the smell of fresh bread. Each person deposits £10 in a box to vote on the business idea they like best.
Cally Anne Highfield, a local resident and Homebaked staff member, stands up, notebook trembling slightly in her hands, to explain her idea for a storytelling event in the bakery. The first one will be themed around the idea of nostalgia, with the aim of collecting memories of local residents in an anthology that can be sold next to the pies and buns at Homebaked, and elsewhere around Liverpool.
"Everyone in Anfield has had their voices silenced for a long time," says Highfield. "So I want to give them a platform."
Homebaked began at the end of the swinging wrecking ball that was Housing Market Renewal, a controversial government initiative of demolition and reconstruction in the Midlands and northern England that began in 2002. The Dutch artist Jeanne van Heeswijk, commissioned for the 2012 Liverpool Biennial, worked with locals to rethink the pocket of the city around Anfield Stadium according to their needs and desires. With architects and other designers, the community remodelled a block of empty property to create affordable housing, a bakery and kitchen, and meeting spaces. Van Heeswijk said at the time: "Housing is the battlefield of our time, and the house is its monument."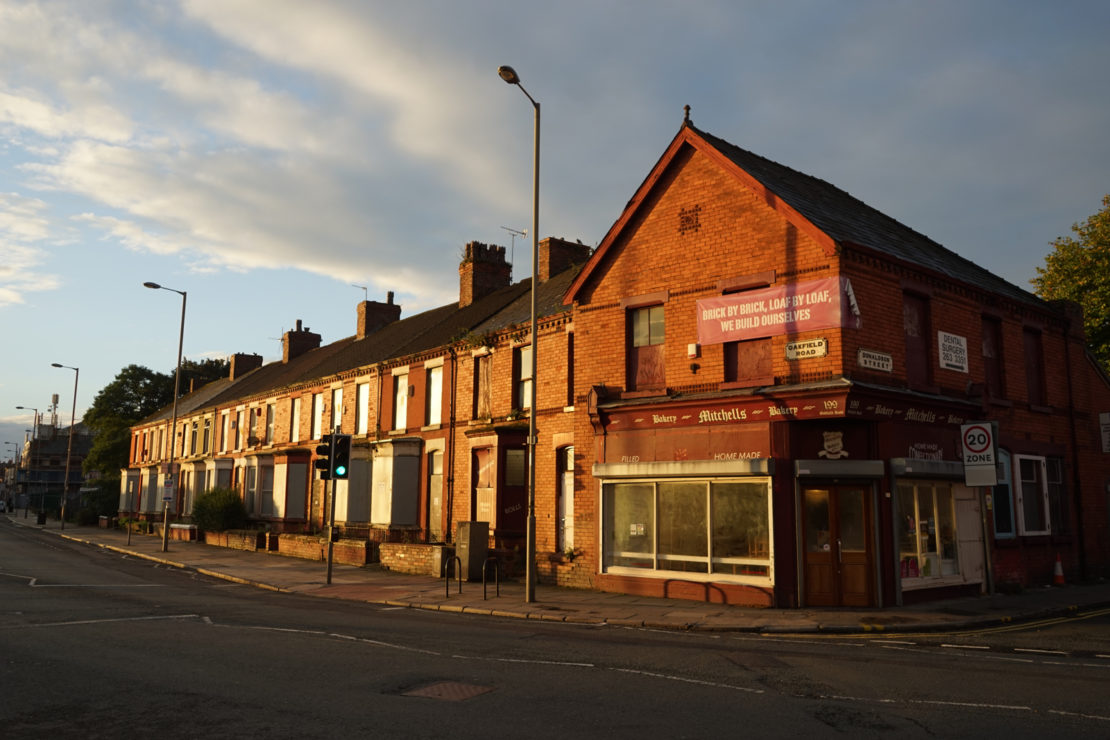 Four years later, 'monument' doesn't cut it. The bakery is one of the few operating businesses on the derelict streets that lead to the stadium, home of Liverpool Football Club. Using a community land trust model, Homebaked has quietly but persistently worked towards alternative means of providing housing in the area. With the right support from the council, these residents are hoping Homebaked can become a partner in the development of their neighbourhoods – a partner that finally values the voices of the people who live here and the stories they tell.
Community land trusts are not new, but they are growing in popularity. Half of the 170 trusts in the UK started in the last two years. They are usually associated with groups of well-to-do folk, often with an architect among their number, buying a patch of rural land and embarking on an eco-friendly self-build project worthy of a Channel 4 series. But urban trusts, like the Turner prize winning Assemble project at nearby Granby in Liverpool, and St Ann's Redevelopment Trust in Haringey in London, show that the model can provide affordable housing and stability for residents where it is needed most. Forming a trust allows a group of people to take ownership of land and link property prices to earnings in the area, and keep homes affordable in perpetuity.

Homebaked became a community land trust in 2012. It's been a long road, but the CLT knew the council was taking it seriously when the latest master plans for the area were released. Homebaked was outside the demolition zone for the first time and its housing designs were included on the plan.
---
Cally Anne Highfield had been unemployed for a few months when she answered an advert for a part-time job at Homebaked two years ago. On the day of her interview, she was struck by the familiarity the place. She remembered her granddad, the only family member with a car, picking her up from school every Friday to get teatime treats from the bakery when it was owned by the Mitchell family. The Mitchells had been baking bread in Anfield for over 80 years, part of a rich community of local businesses along Walton Breck high street, including a chemist, a sunbed salon and a primary school.
By the time Highfield was old enough not to need picking up from school, the area was in decline and most of the shops were fast-food joints for football fans. Even before Housing Market Renewal, Liverpool FC had started buying up homes around Anfield as part of plans to expand the stadium. Many residents accuse the club and the council of being responsible for managed decline in the area. Newspaper clippings from the turn of the millennium tout the existence of secret plans to force people out.
When Housing Market Renewal was introduced by New Labour in 2002, regeneration was turbocharged. Residents were routinely bought out of family homes in exchange for new, modern houses in an effort to diversify housing stock in the area and push up house prices.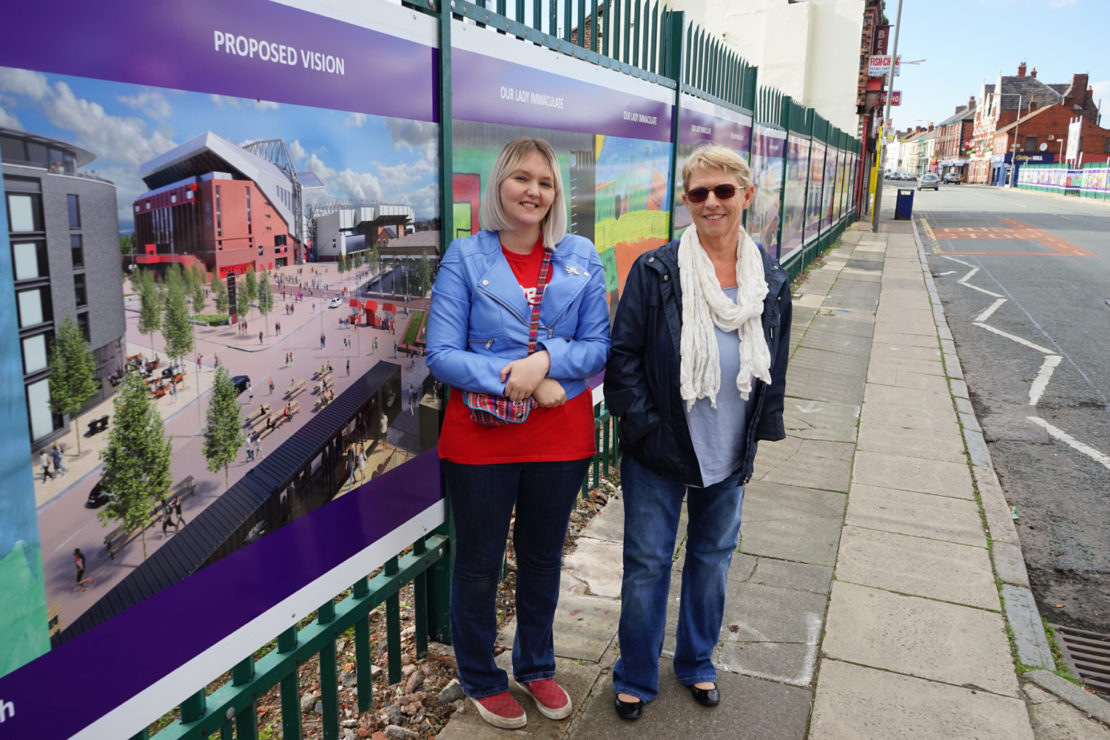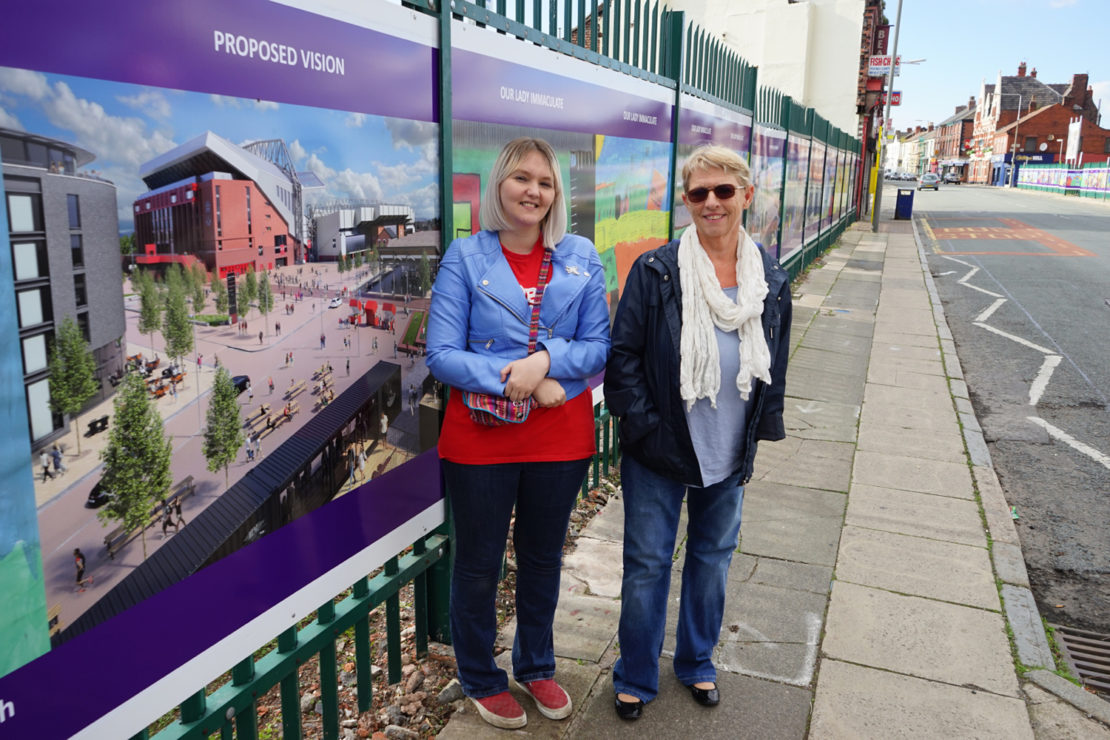 Anfield was one of nine areas named in the £2.2bn programme, which the Conservatives later said revolved around an "obsession with demolition over refurbishment". Once the bulldozers arrived, mortgage-lenders shunned these areas and house prices fell, making it cheaper for councils to buy them and ensuring a windfall gain for the state when the land was sold off.
Grant Schapps, Conservative housing minister under David Cameron, said when he closed the scheme in 2011 that it had amounted to "bulldozing buildings and knocking down neighbourhoods, pitting neighbour against neighbour, demolishing our Victorian heritage."
Cally Anne Highfield's family lived through more than a decade of this devastating uncertainty in Anfield as rows of homes were boarded up and left empty save for infestations of rats. Highfield remembers football fans walking up her road to matches asking one another who on earth would want to live there.
During this time, the Mitchells kept baking bread for dwindling numbers of customers while other businesses around them closed. Then the financial crash came and government funding dried up. In 2011, the demolition order still hanging over the shop, the Mitchells put a sign in the shop window that read, "We're sorry, we tried, but we couldn't make it any more. God bless you for your custom," and retired without compensation (the council finally bought the building several years later).
Sign up to our newsletter
Liverpool council suddenly had to help hundreds of families like the Mitchells, left in purgatory by Housing Market Renewal. "Overnight, we lost £128m for housing development in the city," says Ann O'Byrne, deputy mayor of Liverpool. "So we had to come up with plans for how we would look after residents in Anfield."

Painstakingly, over the following years, the council helped families find new homes on a case-by-case basis. They diversified the housing in the area by knocking two red brick terraces into one larger family home, and invited new people into the area by offering first-time buyers a terraced house for £1 and a loan to do it up. Homebaked became part of the solution. "Homebaked's plans for the high street were about the row that they belong to and how they can make that into something more imaginative," says O'Byrne. "Sometimes you'll hear people say that when a council gets involved it's the dead hand of bureaucracy coming down. But actually, [it can be there to offer support] and say 'get on and do it', we'll be there to help."
Van Heeswijk rented the bakery to use it as a base for the Liverpool Biennial project but did not initially plan to start baking. Nonetheless, as soon as they turned the lights on in the building, neighbours started sticking their heads round the door and asking if they could buy bread. Britt Jurgensen, a local resident who got involved with Homebaked at that time, said they realised baking and selling bread could be one way of establishing themselves in the area.
The housing question never went away. But by channeling their work through the bakery, sharing bread with neighbours became a political act. "Many houses were boarded up, some people were still fighting for their homes, others licking their wounds after they lost their homes for an amount of money that couldn't buy a new one," says Jurgensen. "There was a lot of – and still is a lot of – sadness, anger. People felt disempowered and disengaged. To see that they can make a business work on a high street where there is no other producing local business was a way of gaining other people's trust – and also the council's trust."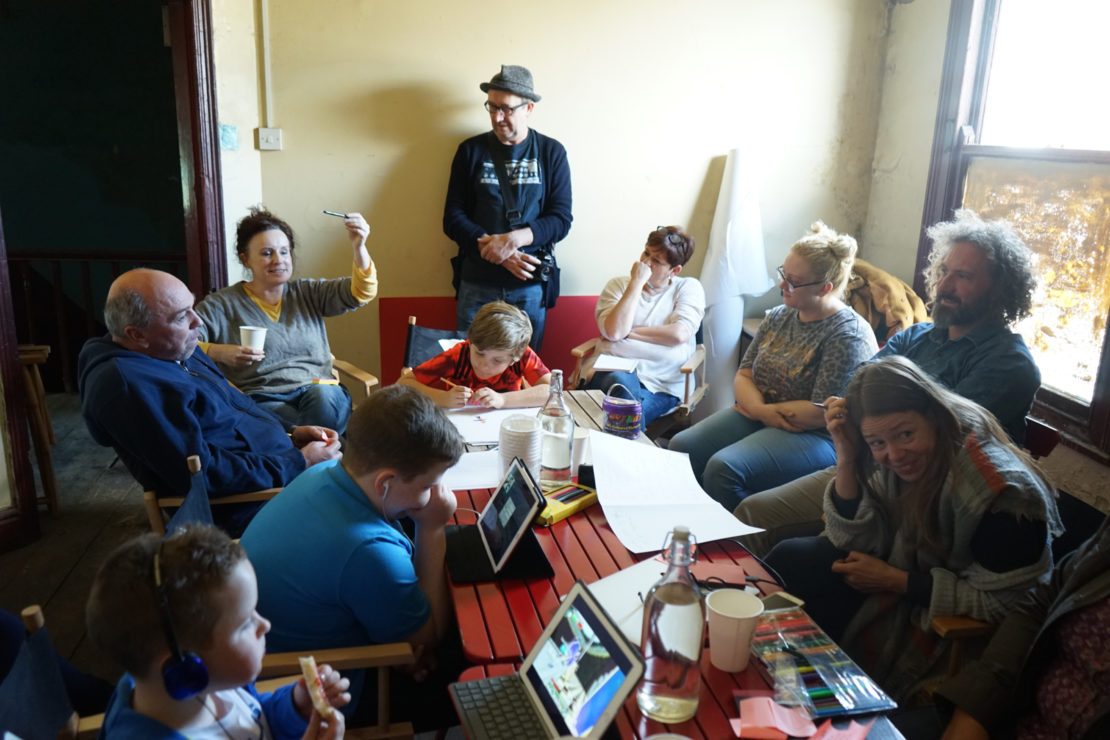 Jurgensen is pleased that community-led housing is becoming recognised, but she knows it can't be realised for free. "This type of work actually needs money," she says. "It needs resources for people to upskill and learn and make mistakes on the way. All of that isn't cheap."

The council is moving ahead with a £260m regeneration plan drawn up by developer Your Housing Group and Liverpool FC in 2013. Under these plans, the bakery is the only building left standing on Walton Breck Road, most of which has already been razed to the ground. Tall barriers hide weeds growing on empty plots showing a computer-generated vision of a massive plaza around the monolithic grey stadium, with food trucks, benches and stores around it. Residents say this new high street is not a high street at all, but "a gateway into an area called Liverpool football stadium," in a ghost town they used to call home.
---
The compulsory purchase order for Highfield's house finally arrived from the council in 2013 and the next year, a few days before Christmas, the family moved. Highfield can still point out the exact spot where her old house stood, somewhere in the middle of the stadium's gunmetal grey expanse. Looking at it makes her feel "not much". "I had time to get used to it," she says.
Regeneration schemes have fallen into disrepute as research has shown that they cause uncertainty and fear for residents, strain local businesses and do little to alleviate squalor and crime. Yet there are more than 65 such proposed schemes in London boroughs, where land is particularly sought after by developers. Over 8,000 social rented homes were lost in London between 2004 and 2014 thanks to 50 regeneration schemes, with some estimates showing as many as 350,000 social homes have been lost UK-wide. These numbers tell a story of social cleansing in order to parcel up land for profit, say objectors, no matter what the consequences are for the people.
Perhaps the only way to stop it is to give those same people skills to draw up their own alternatives. Since Highfield started at Homebaked, Jurgensen has asked her to take on an extra role as writer-in-residence for the community land trust. On a lively blog, Highfield documents meetings in which residents have drawn up architectural plans for 26 flats to go on the land next to the bakery, in partnership with a local architecture firm. "Anyone from the area was welcome to come along, not just people in the community land trust," Highfield says. "When the flats are built, people can look at it and say they had a say in it because they helped choose the windows. That gives people a sense of ownership over the area."
---
On the morning of Highfields's appearance at Liverpool SOUP, Homebaked holds a community engagement day to talk about the next stage in their plan. This is to establish themselves as a presence on 'the rec' at the other end of the houses attached to the bakery, so that once the houses are gone, the CLT is in a better position to request the land from the council. Jurgensen describes it as a negotiation tactic. "As soon as you are there, it's harder to get rid of you," she says. "When the houses are demolished, you are already there."

Residents gather on the rec in the shadow of a faded sign stuck in the ground like a flake that reads: "A brighter Anfield is coming". It's a bit of a stretch to imagine this bit of wasteland might be anything other than a building site. Half of it is behind a metal fence covered by cranes and diggers, the other half covered in weeds and litter. But residents share stories of their favourite public spaces and discuss how to build their own, including growing spaces and sunken gardens. As they talk, an old shipping container is reimagined as a fold-out theatre with a greenhouse on top and a back alley is filled with market stalls. A young boy, encouraged by adults, draws up felt-tip plans for a zip wire.
Back at the bakery, fuelled by hot buttered toast, residents go through a long list of ideas and piles of crude drawings. A designer, invited to join the meeting by Jurgensen, starts doing budget calculations to figure out how to bring the drawings to life. People chat excitedly as they filter out through the bakery, just as Highfield is setting up for her pitch. No one else shows up to pitch that night, which makes Highfield even more nervous, but her idea is warmly received and she grins, delighted, when she is awarded funding and support for her storytelling workshop.
"It's easy to underestimate the power of voices and it's easy to be passive, but if you just get out there and do something you can show what's possible," Highfield says. "You can tear down bricks but you can't take away the stories."
Watch the short film that accompanies this article here
Homebaked is part of a series of local economies Hazel is documenting at farnearer.org, with funding from the Friends Provident Foundation