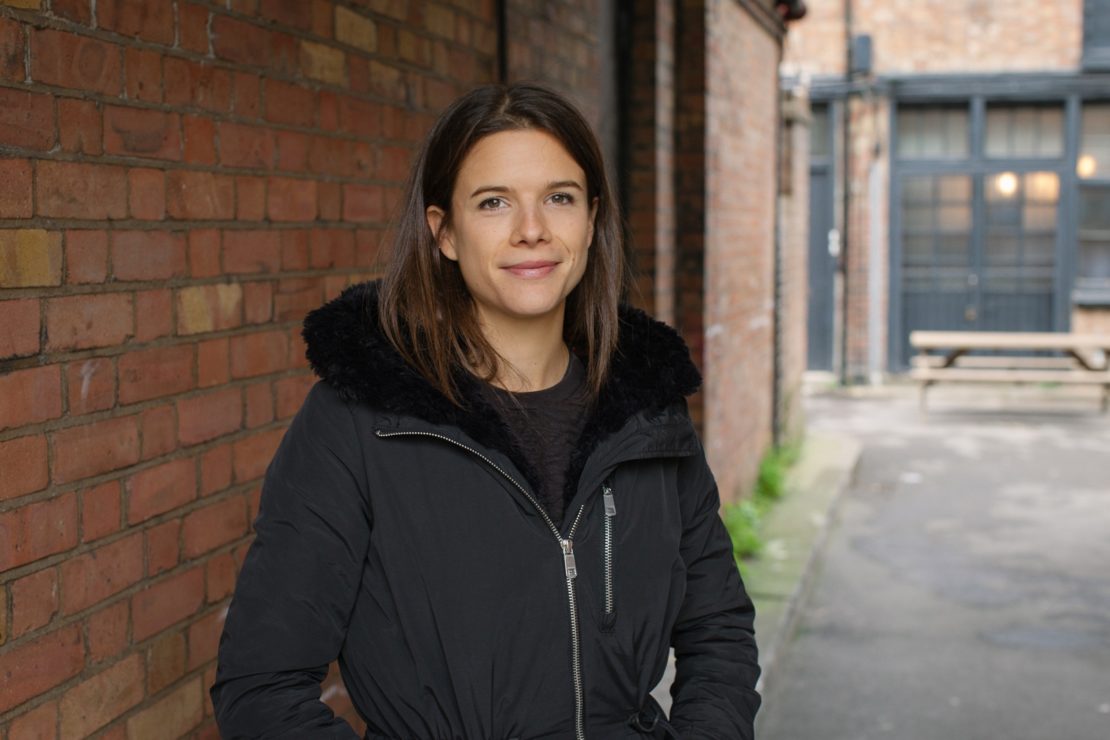 Long
Down a narrow back street in east London, in an industrial yard of small, Victorian furniture workshops, is a business that could only have developed in the 21st century. In a brick-walled, single room, lit by a skylight, half a dozen young people sit at fibreboard tables over laptops. Everything has a makeshift, nomadic quality: the stuff in plastic boxes, the mobile phones, the bicycles piled inside the front door. There isn't even an inside toilet. But this is a business that is manufacturing in China, exporting to 52 countries and about to change London's streets.
The company is called Blaze. Earlier this week Transport for London announced that the company's revolutionary Laserlight will be incorporated into all the bicycles in London's hire scheme (officially Santander cycles, unofficially Boris bikes).
The Laserlight is revolutionary because, in addition to an already bright light, it contains a laser that projects a bright green image of a bicycle onto the road, warning traffic that a cyclist is coming. Blaze is raising funds on Kickstarter for its second major product, a back light called the Burner: they were seeking £35,000 but by the close of the campaign on last Friday it had raised more than £150,000 from 2,208 backers.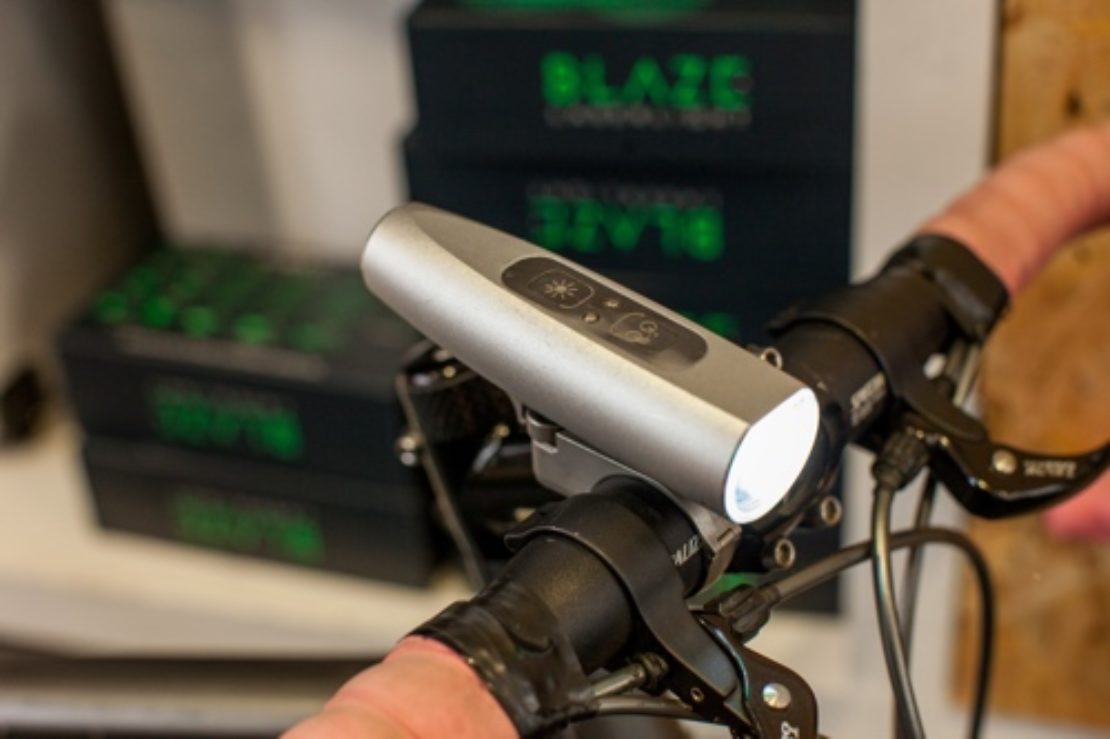 The laserlight was the bright idea of Emily Brooke, Blaze's founder, who dropped out of a physics degree at Oxford to study product design. Her love affair with cycling began in the summer of her second year at the University of Brighton, when she decided to cycle the length of Britain for charity.
"I bought a bike in May – I'd never cycled before – trained, rode 1000 miles in September, and I've been on a bike pretty much every day since." On that trip, she realised how much more stressful urban cycling was than cycling in the country. "The week the ride finished was the week that my final year of product design began. I decided I wanted to find and solve the biggest problem for city cyclists."
Her first thought was brake lights but her tutor was unconvinced. "I was furious and determined to prove him wrong, so I went off and did six months of research with the driving psychologist Dr Graham Hole, the bus company, statisticians, and many, many cyclists, doing user analysis. One stat really stuck out: that 79 per cent of bikes that are hit are travelling straight ahead. Someone pulls into them." Either a vehicle turns across the bike when the cyclist is in its blind spot, or it pulls out of a junction into the cyclist's path.

Her lightbulb moment – the metaphor is apt, for once – came when she was cycling towards the Brighton seafront. "I can see it now. I was coming up to a junction, wishing I could be five yards ahead to warn the traffic I was coming – and I thought, 'That's it: I'll project myself there.'"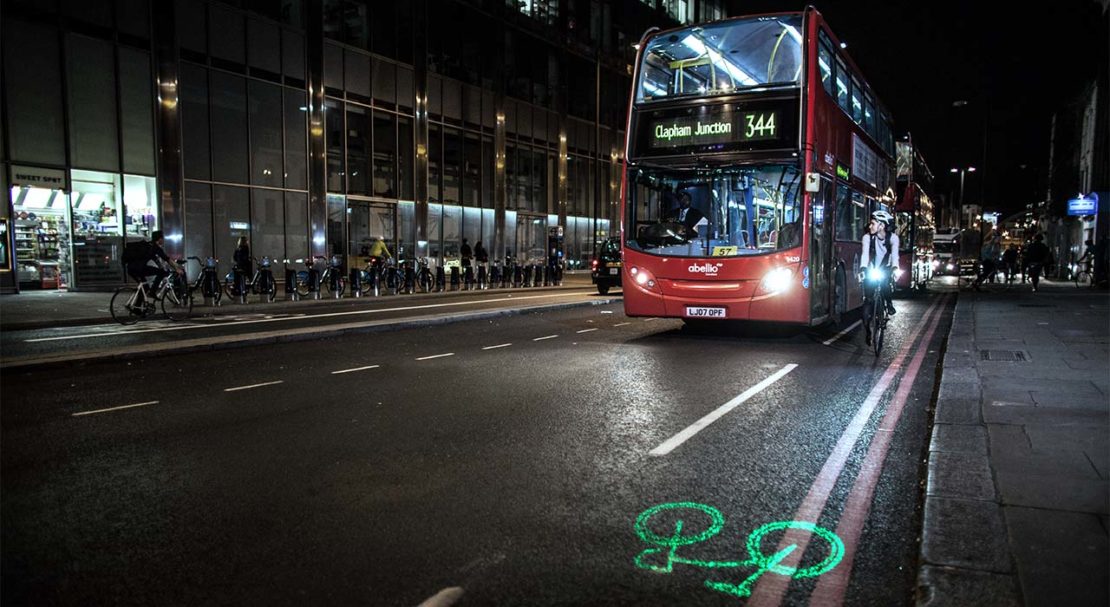 A number of specifically 21st-century factors have allowed Emily Brooke to go from being, as she puts it, "a little girl with an idea" to the CEO of a company with global reach. The first is virality.
She made a prototype Laserlight for her final year exams, patenting it while she was still at university. "Within two days it was on every cycling blog in the UK. People in Sydney had heard about it by the end of the week." Later, this kind of consumer sharing would help with marketing: when the product was released, there was a rash of unboxing videos showcasing the packaging and design.
The second factor in her favour was the growth in enthusiasm for entrepreneurship and a sense that it is a respectably ambitious career choice, although this took a bit of time to percolate through to Brooke herself. "At Oxford and Brighton there was an assumption you'd go to work in a big company – although, to be fair, the course at Brighton has changed completely now."
Brooke won a scholarship to a summer school in entrepreneurship at Babson, the Massachusetts-based business school, where she was influenced by other students, notably those from South America. "There was one guy, an undergraduate from São Paolo, who was about 23 or 24 and already had three businesses: a T-shirt printing company, a Tetra Pak recycling company making roofs for slums, and a chain of men-only beauty spas. I was in awe.

Everything has a makeshift, nomadic quality but this is a business that is manufacturing in China, exporting to 52 countries and about to change London's streets
The third, and allied, factor was startup culture, with its fleet ways of working and its infrastructure of accelerators and investors. Initially, though, this proved to be a bit of a distraction.
Returning from her summer school all fired up by the idea of being an entrepreneur, Brooke was backed by Entrepreneur First, a very early-stage accelerator. "They said Blaze was very clever and cool but I should be doing it in my spare time; what I should really be doing was building the next big online business."

She went along with this until, one night, she left coding class to find that her beloved bike had been stolen. Having spent some hours reporting the theft to the police, she got home and learned on the news that a cyclist had been killed by a bus that had turned in front of him. "I was bawling my eyes out and I called my mum at about midnight and said, 'Mum, I know this sounds strange but I need to be doing Blaze,' and she said, 'Darling, we know: we were just waiting for you to figure it out.'"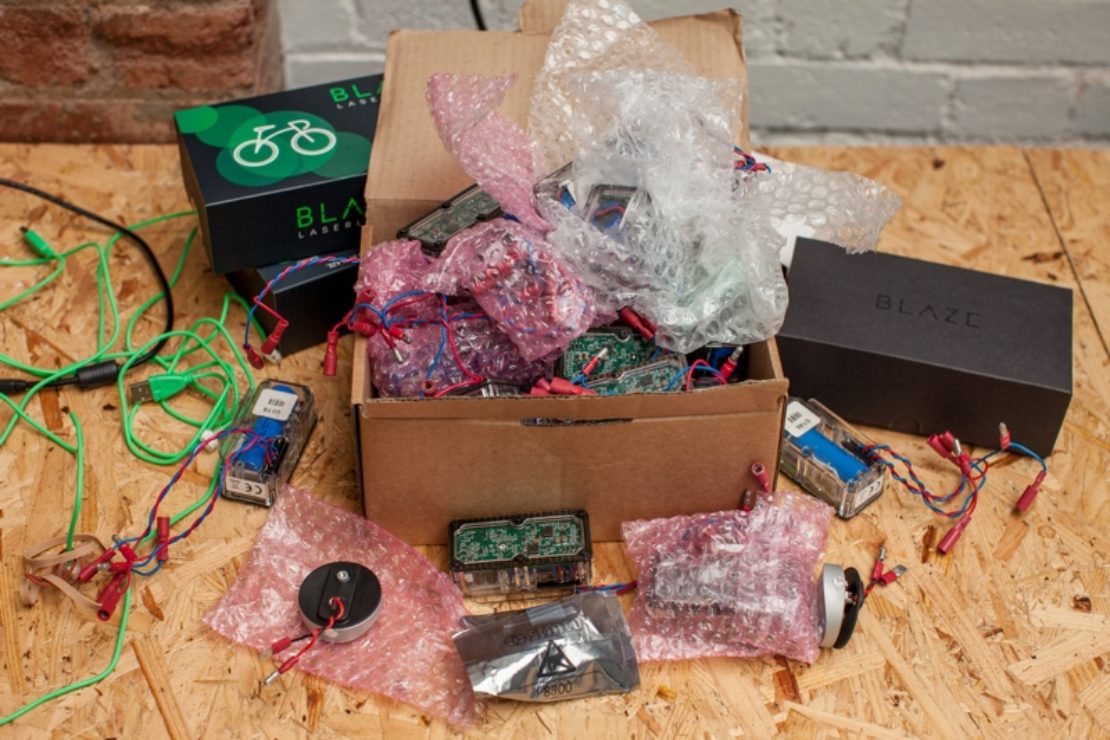 Startup culture has influenced the "lean and scrappy" (Brooke's words) way her business is run, with seven offices in half as many years before they arrived in their current furniture workshop.
There is an air of making it up as you go along that is common to many successful lean startups. Brooke's first employee decided to learn web design; he created the company's website. The girlfriend of one employee does the graphic design and the boyfriend of another is the tech support. The much-admired packaging was designed by an intern, who is now a member of staff.
Entrepreneur First continued to help Brooke towards investment, despite the fact that, as a single founder producing hardware, she was now breaking all their rules. She has, she acknowledges, become something of a poster child for Tech City, the London technology cluster, she thinks precisely because she does flout the stereotypes.
She is also, of course, a woman, although she would like to think this is unimportant. "I don't get wound up about it. I don't think of myself as a woman. I'm basically a boy," she laughs.
The fourth 21st-century innovation working in Brooke's favour was crowdfunding. She launched her Kickstarter campaign the month the platform came to the UK – and, despite initial cautiousness ("Americans weren't backing anything outside the dollar and it took a while for Brits to get it"), the Laserlight reached its target of £25,000 in less than five days; and went on to raise £55,000.
Crowdfunding offered an important proof of concept. "It would be naive to think you could start a company, especially a hardware company, on Kickstarter. But it was still very important. Before, the Laserlight was an idea. Afterwards, it was clear people would pay for it."
The Kickstarter campaign also offered the chance to develop a community of enthusiasts, who were vocal in helping the product's development. "We shipped late, but that was mainly because we [consulted with] them. There was a point where I realised we were going to be delivering a much better product later in the year than the technology we had access to at that point. We asked the backers what they'd pefer: 598 had voted by the end of the day and 592 wanted to wait."
Brooke is following in a direct line from the Victorian furniture builders who preceded her. But unlike them, she has been able to make use of the connectivity, networks and platforms of the 21st century
The fifth factor working to Blaze's advantage was the ability to source components, and to manufacture and distribute globally. The Laserlight is assembled in Shenzhen, southeast China, thanks to a deal with PCH International, which manages the supply chain for some of the world's biggest electronics companies.
PCH has recently started supporting smaller companies and helping them to scale; Blaze was one of the first it took on. "That came with challenges because they were used to working with Apple and now they were working with a tiny startup that had no idea what it was doing. But it means that we're using the same supply chain as Apple and shipping Apple-quality product around the world."
An integrated Laserlight is currently on trial on 250 Boris bikes and has had a rigorous 12-week evaluation by the Transport Research Laboratory, looking at the lights on different road surfaces and in different conditions. The results showed that visibility around a bus improved from 72.4 per cent using the existing LED lights to 96.2 per cent with the Blaze Laserlight. Around a car it was up from 56 to 66 per cent; around a tipper lorry from 78 to 83 per cent; and around a van from 65 to 97 per cent. A rollout to the other 11,500 bikes in the scheme is due to be announced by the end of the year; New York and other US cities are now making inquiries. There are more than 500 bike hire schemes around the world.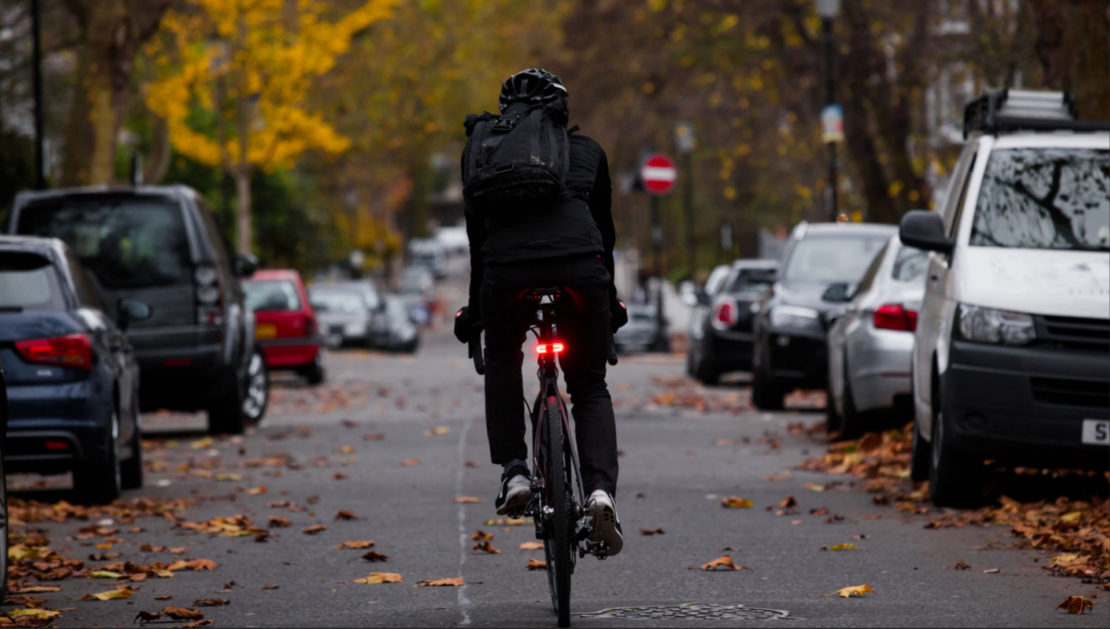 Pretty impressive stuff, you might think, from eight young people in east London, but Blaze is not exactly reviving the British bike industry. If you owned a bicycle in Britain before the 1980s, the chances are it was made here: Britain was the cycling workshop of the world. Today, despite a thriving consumer market, only 1 per cent of the bikes sold are made domestically; most come from the far east.
One response to that might be that jobs are being created, they're just not very visible (and not because they're all in China: the integrated Laserlight is assembled in the UK and all possible supply chains are being considered for the Burner).
Another might be that Brooke is ambitious for growth and recognises that this will depend partly on acquisition: "From day one, our ambition has been to build the global urban cycling brand, with technology, innovation and safety at its heart. Product design takes a long time."
A third might be that Blaze is helping to mobilise people around an idea, rather than just a product, and that this has network effects on jobs. Cycling, rather like the availability of coffee, has become a symbol of the liveable city. It's important not only for the environment but also represents mental and emotional health and urban dynamism. The biggest deterrent to the take-up of cycling is concern for personal safety. The hope for Blaze is that it can help to make cycling safer and perhaps even increase the population of cyclists.
In some ways, Brooke is following in a direct line from the Victorian furniture builders who preceded her in the workshop in Bethnal Green. She's a maker who cares passionately about the quality, robustness and aesthetics of her product. But unlike them, and despite never having had a 'proper' job, she has been able to make use of the connectivity, networks and platforms of the 21st century. The extent to which Blaze will be able to scale its combination of craft, the web, and culture will tell us a lot.